Many new outdoor trends spill over from the US to Europe and find more and more followers. Active vacationers put on their hiking boots and reinvent trekking, hiking and cycling. The Germans have also rediscovered the wanderlust, according to the motto "Hiking is not only the miller's desire".
Especially city dwellers seek compensation in nature and use the beautiful weather, as soon as the sun comes out from behind the clouds. If you live in Berlin, you can be in the countryside within an hour and look for relaxation in the countryside. Here you meet with friends and in addition to physical challenge and the spirit strengthened.
Years ago, the state of Brandenburg invested in infrastructure. It created cycle paths, where you can reach almost every destination. But otherwise Berlin's surrounding area has a lot to offer. Here are a few suggestions for your next bike or hiking tour around Berlin.
1

Schlaubetal-Wanderweg around Müllrose

The Schlaubetal hiking trail starts at the Große Müllroser See southeast of Frankfurt Oder and leads along its eastern shore. Several forest paths lead to the Wustrower mountains and the Ragower mill. Past some lakes, the path leads through a swampy valley with riparian forest. After that, the destination is not far away – in the outdoor pool Schlaubemühle (nature conservation center) the tour ends at the information center of the village.

Marking: Blue "S" on a white background
Length: 25.4 km
2

Rundwanderweg Köthener Heideseen

The circular walk Köthener Heideseen is located between Magdeburg and Leipzig south of Berlin. The tour starts on the village road of Köthen and runs past the Pichersee. Then you come across the middle lake. This one leaves behind. The hike continues in the direction of Swan Lake. Now turn left towards Wehlaberg to get to the lookout tower. The way back takes place on the other side of the lakes. So you get back to Köthen.

Marking: Green dot on a white background
Length: 8 km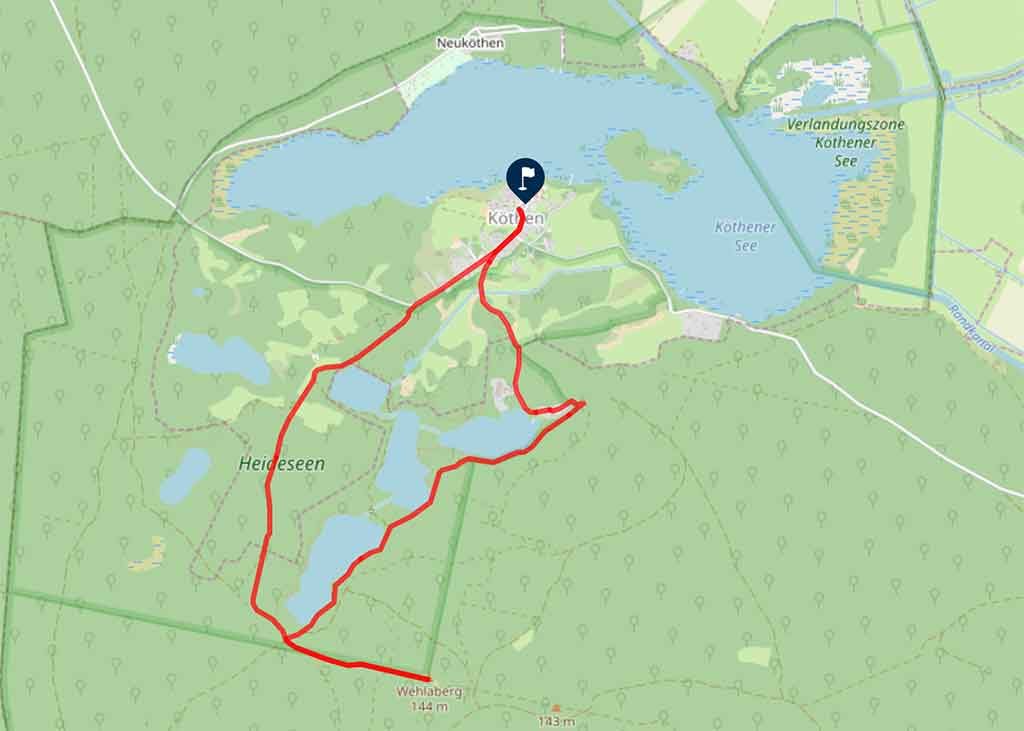 3

Rundwanderweg Großer Stechlinsee, Neuglobsow

The circular hiking trail Großer Stechlinsee is located 30 kilometers north of Berlin. On the Stechlinseestrasse in Neuglobsow, the trail runs straight ahead, past the glass museum to the information boards of the lake, which Fontane immortalized in his novel "Der Stechlin". Then we continue along the shore. A short distance leads through the forest to the Polzow Canal. Through several forest paths, the goal, the playground of Neuglobsow, again reached.

Marking: Logo of the Stechlinsee circular route
Length: 13.9 km
4

Naturparkroute Märkische Schweiz, Buckow

The Märkische Schweiz Nature Park is located east of Berlin, just behind Strausberg. Coming from Buckow, the beautiful nature park route runs along the marking with the red dot. The certified trail leads past the Schermützelsee through wild valleys and gorges, on gentle hills and again and again surprising viewpoints. Behind the bridge of the village leads the way past allotment gardens, through the beech forest on Tornowsee to the bat museum. Passing other lakes, you will climb up and down the paths around the idyllic Schermützelsee.

Marking: Red dot on a white background
Length: 21.5 km
5

Burgenwanderweg, Bad Belzig

The castle hiking trail starts at Eisenhardt Castle and leads past open fields with churches and a mill. Only fifteen minutes away is the hype 'Steep Kieten'. The hustle and bustle of the Hohe Fläming can be found in many places in the idyllic nature park. About Lühnsdorf and the pretty Planetal you reach the village Rädigke with the first library inn in Germany and a Mufflongehege.

Marker: Orange-brown castle symbol on a hill
Length: 18 km