[:de]Habt ihr jemals gehört, dass die Deutschen keinen Humor haben? Das ist falsch! Tatsächlich lieben vor allem die Berliner die Komödie.
Als ich früher in Los Angeles lebte, sah ich manchmal einen mürrischen alten Mann, der grummelig in einem Restaurant aß. Den gleiche Stereotyp findet man natürlich auch in Berlin. Aber das ist nicht die Art von Leuten, mit denen man sich während eine Aufenthalts in Berlin umgeben will.
Offensichtlich schätzen die Deutschen eine Show des guten Humors, wie die Tatsache zeigt, dass diese Comedy-Locations in Berlin immer beliebter werden. Die zweite Tatsache ist, dass Comedy tief in der deutschen Kultur verwurzelt ist und politische Satire sowie physischen Slapstick sehr geschätzt wird. Auch sind Deutsche sehr witzig, wenn sie sich über sich selbst lustig machen.
Wer in Berlin nach einem Lokal sucht, in dem man herzlich ablachen kann, sollte den Bezirk Neukölln besuchen, in dem viele Comedy-Abende stattfinden.
1

Quatsch Comedy Club

Mitte
Friedrichstr. 107
10117 Berlin
Germany
Phone number 030 47997413
2

Comedy Club Kookaburra

Prenzlauer Berg
Schönhauser Allee 184
10119 Berlin
Phone number 030 48623186
3

Cosmic Comedy

Mitte
Rosa-Luxemburg-Str. 41
10178 Berlin
Phone number 01573 4872707
4

Comedy Café Berlin

Neukölln
Roseggerstr. 17
12059 Berlin
Phone number 01521 4660257
5

ComedySportz

Bergmannkiez, Kreuzberg
Fidicinstr. 38
10965 Berlin

Phone number 01511 9666327
6

Kunstfabrik Schlot

Mitte
Invalidenstr. 117
10115 Berlin

Phone number 030 4482160
7

East Side Comedy Club Berlin

Friedrichshain
Warschauer Platz 18
10245 Berlin

Phone number 0176 58398109
8

The Comedy Ball

Friedrichshain
Warschauer Platz 18
10245 Berlin

Phone number 030 24034900
3

Baum Haus Comedy Open Air

Neukölln
Sonnenallee 221
12059 Berlin
Germany
10

How to become a Berliner in one hour?

Prenzlauer Berg
Schönhauser Allee
10119 Berlin

Phone number 030 65791760
11

Mad Monkey Room

Prenzlauer Berg
Dunckerstr. 72
10437 Berlin

Phone number 0176 20430737
12

Zimmer 16 / camera dell' arte

Pankow
Florastr. 16
13187 Berlin

Phone number 030 48096800
13

Theatersport Berlin

Kreuzberg
Mehringdamm 34
10961 Berlin

Phone number 030 991916700
14

krimimobil

Weißensee
13125 Berlin

Phone number 030 98354888
15

Kara Kas Bar

Tiergarten
Kurfürstenstr. 9
10785 Berlin

Phone number 0176 39952912
16

Schröder Reisen Comedy Bus

Comedy Clubs, Bus Tours
Wilmersdorf
10777 Berlin

Phone number 030 61101313
17

Die Gorillas

Kreuzberg
Cuvrystr. 20
10997 Berlin
18

Gotischer Saal

Kreuzberg
Schmiedehof 17
10965 Berlin

Agentur Katrin Wans Film TV Theater
19

Agentur Katrin Wans Film TV Theater

Reuterkiez, Neukölln
Sanderstr. 29
12047 Berlin

Phone number 030 74073300
20

Die Theaterkasse!

Hohenschönhausen
Konrad-Wolf-Str. 111
13055 Berlin

Phone number 030 97994811
21

Die Kleine Weltlaterne

Wilmersdorf
Nestorstr. 22
10709 Berlin

Phone number 030 8926585
22

Bei Stefan

Schöneberg
Gotenstr. 1
10829 Berlin
23

Theaterkahn Berlin

Mitte
Märkisches Ufer
10179 Berlin
Phone number 030 75543704[:en]Have you ever heard the saying that Germans have no sense of humor? That's wrong! In fact especially the people in Berlin just love comedy …

When I used to live in Los Angeles sometimes I saw a grumpy old man eating in a restaurant. The same stereotype you will find in Berlin also. But that is not the kind of people you want to meet or hang around with while staying in Berlin.

Here is a good reading, why Germans look like angry and mean to us: "Tears of laughter trickled down my face and I clapped so hard my hands turned red. But I was surprised at my reaction, for I was being hilariously entertained by a German comedian at Quatsch Comedy Club in Berlin, in a situation that could be considered oxymoronic by many."

Germans obviously appreciate a show of good humor, as fact made evident with the soaring popularity of these comedy venues in Berlin. Second fact is, comedy has deep roots in German culture, with a strong appreciation of political satire as well as physical slapstick. Also Germans are very witty when making fun of themselves.

One answer in this article is the komplexity of the German language. When you try to speak with a literal translation of humor, you lose a lot of its meaning that makes a joke funny. As a result you often see a blanc expression on the face of the listener.

However, if you are looking for a good Lough in Berlin you should visit the neighbourhood of Neukölln that hosts a large number of comedy nights.
1

Quatsch Comedy Club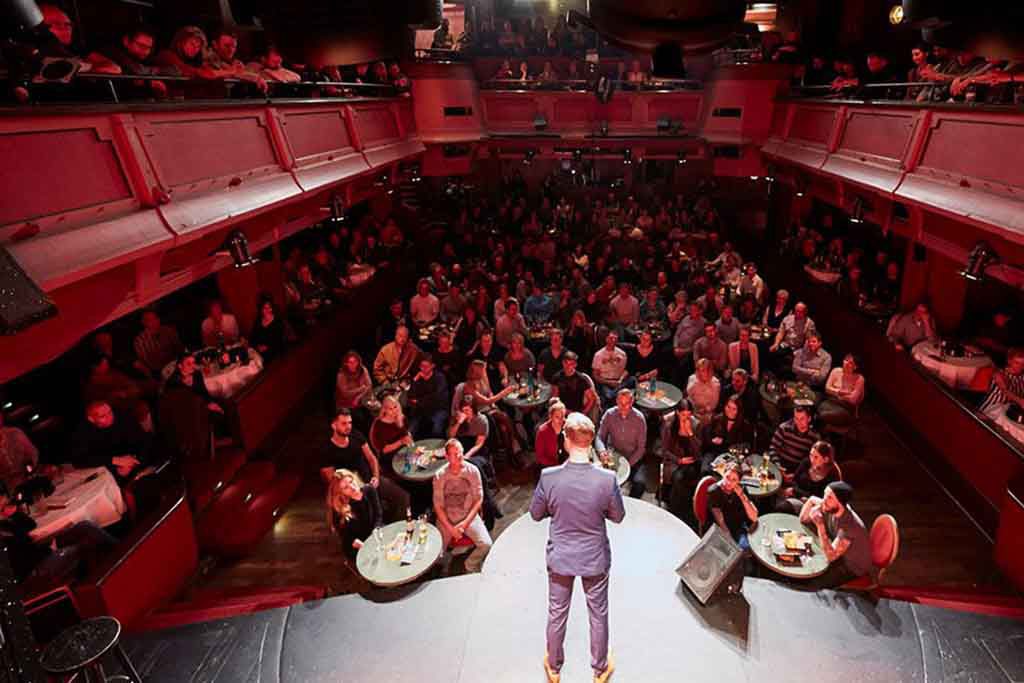 Mitte
Friedrichstr. 107
10117 Berlin
Germany
Phone number 030 47997413
2

Comedy Club Kookaburra

Prenzlauer Berg
Schönhauser Allee 184
10119 Berlin
Phone number 030 48623186
3

Cosmic Comedy

Mitte
Rosa-Luxemburg-Str. 41
10178 Berlin
Phone number 01573 4872707
4

Comedy Café Berlin

Neukölln
Roseggerstr. 17
12059 Berlin
Phone number 01521 4660257
5

ComedySportz

Bergmannkiez, Kreuzberg
Fidicinstr. 38
10965 Berlin

Phone number 01511 9666327
6

Kunstfabrik Schlot

Mitte
Invalidenstr. 117
10115 Berlin

Phone number 030 4482160
7

East Side Comedy Club Berlin

Friedrichshain
Warschauer Platz 18
10245 Berlin

Phone number 0176 58398109
8

The Comedy Ball

Friedrichshain
Warschauer Platz 18
10245 Berlin

Phone number 030 24034900
3

Baum Haus Comedy Open Air

Neukölln
Sonnenallee 221
12059 Berlin
Germany
10

How to become a Berliner in one hour?

Prenzlauer Berg
Schönhauser Allee
10119 Berlin

Phone number 030 65791760
11

Mad Monkey Room

Prenzlauer Berg
Dunckerstr. 72
10437 Berlin

Phone number 0176 20430737
12

Zimmer 16 / camera dell' arte

Pankow
Florastr. 16
13187 Berlin

Phone number 030 48096800
13

Theatersport Berlin

Kreuzberg
Mehringdamm 34
10961 Berlin

Phone number 030 991916700
14

krimimobil

Weißensee
13125 Berlin

Phone number 030 98354888
15

Kara Kas Bar

Tiergarten
Kurfürstenstr. 9
10785 Berlin

Phone number 0176 39952912
16

Schröder Reisen Comedy Bus

Comedy Clubs, Bus Tours
Wilmersdorf
10777 Berlin

Phone number 030 61101313
17

Die Gorillas

Kreuzberg
Cuvrystr. 20
10997 Berlin
18

Gotischer Saal

Kreuzberg
Schmiedehof 17
10965 Berlin

Agentur Katrin Wans Film TV Theater
19

Agentur Katrin Wans Film TV Theater

Reuterkiez, Neukölln
Sanderstr. 29
12047 Berlin

Phone number 030 74073300
20

Die Theaterkasse!

Hohenschönhausen
Konrad-Wolf-Str. 111
13055 Berlin

Phone number 030 97994811
21

Die Kleine Weltlaterne

Wilmersdorf
Nestorstr. 22
10709 Berlin

Phone number 030 8926585
22

Bei Stefan

Schöneberg
Gotenstr. 1
10829 Berlin
23

Theaterkahn Berlin

Mitte
Märkisches Ufer
10179 Berlin
Phone number 030 75543704

[:]